Toronto #5: Dramas of Loners & Misfits
Submitted by

MovieJay

on Mon, 09/23/2013 - 00:23
Every year, Toronto begins to take on certain themes by the festival's midpoint, and this year there were some strong, serious dramas involving characters who go it alone in life, and much of the time to their own detriment. Here are a few of the stronger ones I saw at TIFF this year.
Nicolas Cage--so often derided by folks who I suspect have missed a few of his very good movies the last 10 years--delivers another one of his great performances in "Joe", a hard-bitten, booze-soaked Texas drama boiling in a cauldron of snakes and violence and decrepitude. That Cage is able to find redemption in Joe is a testament to how good he is at making an imperfect, impenetrable man so sympathetic to us.
This isn't a film that intends to show us the ways of the South. Rather, I think it's a story that reveals the end of those ways. Joe's precisely the kind of person that some politicians in America are referring to when they speak of "rugged individualism". He's a man who might've really made something of himself in the old frontier days, but in modern times he's a drunken loner, forever shackled to the burdens of his past, getting thrown in jail for making stupid mistakes, and working a job that is basically an outsourced and thankless one, clearing healthy young trees for land developers.
It's illegal to clear healthy growing trees, so it's Joe and his crew's job to poison them first, which is perfect for getting around environmental laws. Joe's crew is made up of working-poor black guys and though they aren't really friends, they respect Joe because he's the sort who means what he says and says what he means, and he's always on time with their pay.
In his off hours, Joe does much of his living in the dusk, drowning his sense of worthlessness in booze. Totally removed from any notion of a functioning relationship with a woman, Joe tries for a solace that never comes at a house across town specializing in rented girls. That's because he's totally put off by the place's dog. "He's an asshole!". You can tell injury's been added to insult Joe's loneliness the way he says that line.
Seeing something of himself in 15 yr-old Gary--who's alcoholic father exists to terrorize his family--Joe accepts the boy's plea to take him on his work crew. A bond forms. More of Gary's brutal family life is revealed.
Director David Gordon Green returns to his natural strength for telling atmospheric dramas after a few recent stoner comedies, one good (Pineapple Express), one bad (The Sitter), one ugly (Your Highness). Like his "All the Real Girls" and "Undertow", Green's sense for showing lived-in places is uncanny.
Where his previous southern tales have felt more on the Malick side of the cinematic scale, this powerful drama, with Nicolas Cage's arresting physical presence throughout, reminded me more of grittier Paul Schrader dramas like "Affliction", which also dealt with boozing men, violence, and redemption. I loved this difficult movie, and young Tye Sheridan as Gary announces himself as a talent to watch in much the same way Jennifer Lawrence did just a few years ago. He's got the same gift for smouldering in total stillness. Great movie. All signs point to an early-to-mid 2014 release date.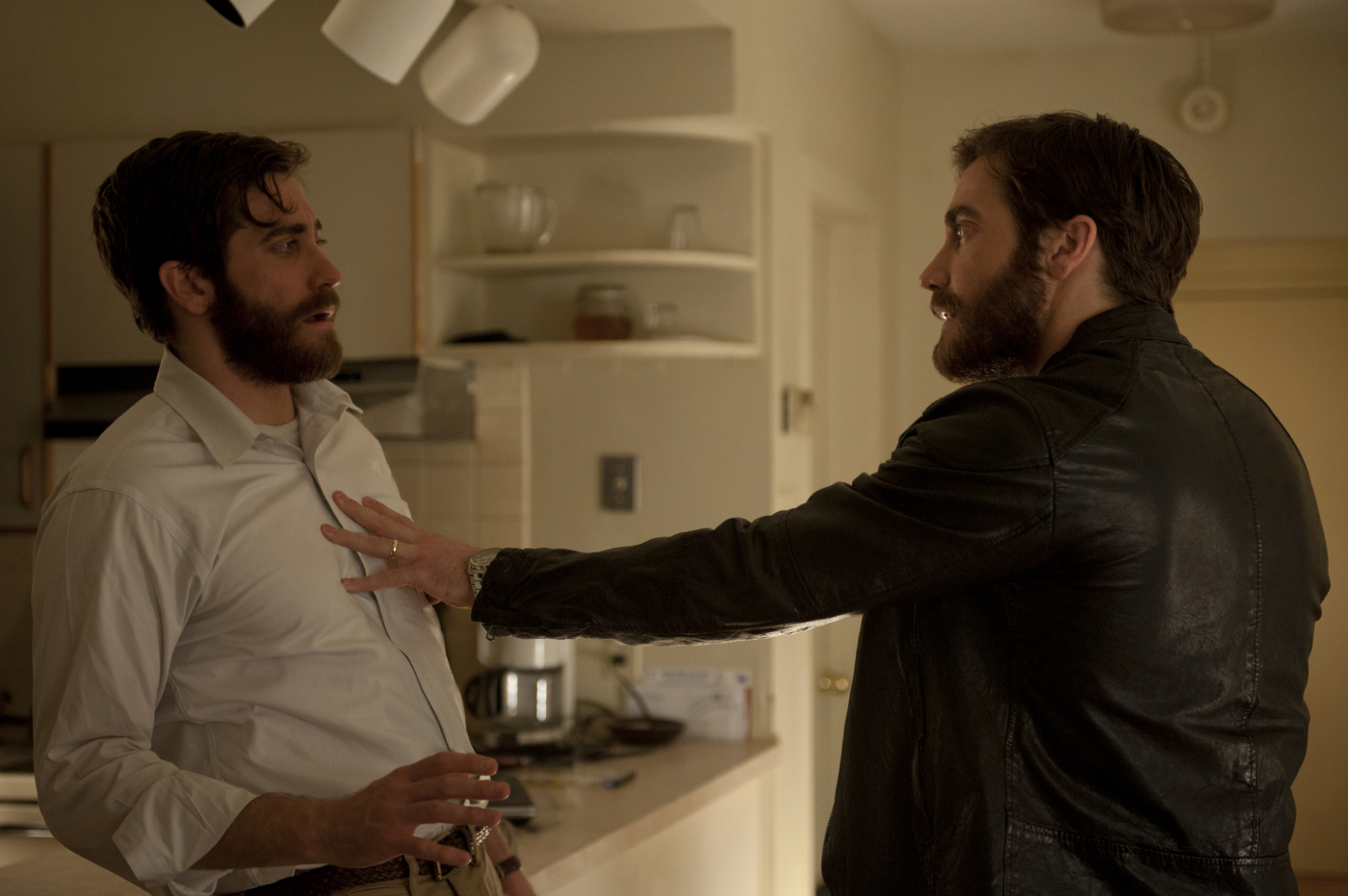 Toronto is Toronto in Denis Villeneuve's "other" festival drama "Enemy", one of three doppelganger-themed movies at TIFF13. Here, Toronto is not filling in for New York, Chicago, Boston or Pittsburgh. There are even striking aerial shots of downtown Toronto, featuring the tall CN Tower. The city has never been made to appear as thickly drenched in smog and heat and urban sprawl as it is in this film, which is a great thing for this story, but maybe a little worrisome from people who like greenery.
In a downtown tenement building over by Wellesley and Parliament, we meet our lonely (depressed?) college professor played by Jake Gyllenhaal, whose life takes a turn for the interesting when he decides to rent a movie suggested to him by a colleague, featuring an actor who looks uncannily like him.
"Enemy" suggests what we might do if we found out that our exact twin was somewhere out there in the world. Gyllenhaal does a great job of modulating both performances, which seem like two entirely different people despite the fact they share the same hair and facial grooming styles. The college professor is a sad, mournful man; the actor is a more confident guy's guy with better posture. What ails our prof exactly is a mystery. He's got a successful career and a hot girlfriend, but seems crippled by fear or possibly depressed.
The movie maintains the dark vibe of a good mystery thriller as our college professor seeks out the actor. Their eventual meeting is an interesting one and like the conclusion of the film, it toys with our expectations and leaves us with more questions than answers, which I feel is appropriate for this story, because it's really about the journey than about some cheap payoff. This appears to be another winter/spring 2014 release. The new teaser is below.
"Words and Pictures" is one of two teacher movies I saw at TIFF13 that are strong additions to the genre. Australian director Fred Schepisi (Roxanne, Last Orders) returns to fine form here with a layered story involving two high school teachers who are kind of self-imposed loners in what I'm guessing is a smallish coastal town in America's northwest.
Clive Owen--in one of his best roles--plays English teacher Jack Marcus, a totally irrepressible sod of a man who wrote a bestselling novel a few years back, but whose alcoholism now finds him single while his job hangs by a thread. If not for his former lover being the current superintendent, he'd probably have lost it already. For fun, he haunts other teachers with a running wordsmith game involving multisyllabic words.
In class he's got the stuff to be a great teacher, but he's in a rut, going through the motions while he laments to his students about their generation's lack of curiosity. Sure, he goes off book to the criticism of his superiors, and his personal life is a shambles, but how many teachers can make a classroom really come alive? Jack has that ability and we see it play out in several good moments with his English class, made up of fairly regular high school seniors who, overall, seem like real people to us and not simply types.
The school's new art teacher, played by Juliette Binoche, can't stand Jack even though she quietly appreciates his razor-sharp intelligence. A friendly rivalry develops between the two and it involves pitting their students in a debate over the power of images versus that of words. Works of poetry and literature battle visual installations and paintings, and the exercise is observed very effectively on two levels: while the teens are considering big ideas, our two teachers at "war" are engaged in a kind of educational foreplay of-sorts that gets their juices flowing.
"Words and Pictures" is a skilled dramedy with heart and real feeling for its subjects. It understands high school life. It values the arts and humanities, which help us to produce not only good little automatons who make or sell or advertise widgets, but also adults of conscience and feeling. It doesn't sugarcoat the complex lives and personal problems of its two leads in order to force a rom-com down our throats. This is more mature than that. It's honest enough to see these two characters for who they are and allows humor to grow out of genuine intelligence and perceptive observations instead of the usual misunderstandings we see in so many other films.
This was one of the films that got bought at TIFF, with Roadside Attractions picking it up for North American distribution, proving again that they've got good taste in movies, having distributed the likes of "Margin Call", "Project Nim" and "Stories We Tell" in recent years. This looks to be another 2014 release, unless of course if the lead actress category remains as wide open as it still is now, in which case I wonder if they won't sneak it in just before the end of the year deadline for awards consideration for Binoche.